Automation Vertical Market Trends in 2019
If you're already in touch with technology and marketing trends, you know that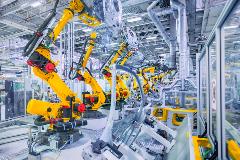 automation has been topping the charts for a few years now, and because it means big things for businesses small and large and for industries from manufacturing to energy, automation isn't going anywhere. There are still many essential business functions and industry operations that can benefit from automation and many ways innovators can improve upon already implemented automation solutions.
Anything and everything can be automated, but for some, automation is an intimidating territory that leaves much to explore. Will automation mean fewer jobs? Will automation really bring businesses cost savings? Is automation essential in a sound change management strategy?
We discuss some of these concerns in an automation industry overview that breaks down a few of the top trends leading to automation industry growth that will make waves in 2019.
The Future of Automation
Automation in and of itself isn't a new concept, but the way automated processes work together with the advanced technology we now have access to is something fairly new to us all, no matter what industry you work in. Manufacturing has seen many big improvements in the way of automation, but other industries have yet to tap into the power of automated technologies and tools to battle change, market competition and consumer demands.
So where are we seeing the fastest growth, and how will automation affect everyone from big business to small IT teams?
Labor
A point of contention in the discussion surrounding automation is its effect on the modern workforce. Many don't see why automation is good because they view automation as the use of robots to create a force that will replace labor, but when we zoom out to see the bigger picture and the long-term implications of automation, we see that introducing automated machines and other efficient processes will not wipe out the workforce. Automation will encourage the recruitment of talented workers from all backgrounds to not only construct and mange machines but to also put their minds to work on better business process automation and improvement, business innovation and other more strategic tasks that only creative humans can execute. More laborious jobs might be exchanged for those that are more engaging.
Here are other ways introducing automation can benefit businesses of all shapes and sizes:
Boosting productivity and adding greater value to outcomes
Establishing new efficiencies and process improvements
Preventing product recalls and addressing issues fast
Enabling innovation and creating strategy-focused jobs
IT & OT
Information technology (IT) and operations technology (OT) will also benefit from automation. As these two functions increasingly combine, businesses with automated tools will get more from their success managing IT efforts and physical efforts because automation will help highlight missing links between the two in addition to areas where the business can become more productive. But the integration and blending of IT and OT means security in automation will be an ongoing concern; as more technology is introduced, it brings greater vulnerabilities. Protecting vital business information and data should always be high on the to-do list as we move deeper into the age of IoT.
Business Improvement
Automation can fuel improved reputation management, change management, business transformation and many other trending business improvement techniques. Here's how automation comes into play to help today's businesses work smarter, not harder:
Greater overall cost savings, increased productivity and efficiency
Predictive maintenance proactive problem-solving
Improved customer service and reaction times
Better data collection and analysis for decision-making
Even as smart businesses adopt the cloud, automated solutions still require reliable sources of power rooted in the real world. Look to OmniCable for wire and cables that support the growth of automation in every industry.
OmniCable offers a selection of cost-effective cables and equipment for automation, including: