OmniCable Featured in EW's July Issue for Circuit Breaker Solutions
OmniCable's circuit breaker program was recently featured in Electrical Wholesaling's July issue with an article called Eliminating Pain Points for Customers,. The article dives into how OmniCable provides a solution to "the problems the gray market creates through the unauthorized sale of these (circuit breakers) products."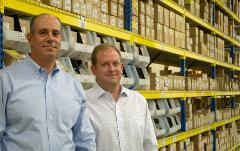 Back in May 2019, OmniCable announced it is now authorized to sell Eaton and Schneider Electric (Square D) circuit breakers to all electrical distributors in the United States. In addition, OmniCable is authorized to sell Siemens circuit breakers to all electrical distributors. The agreements with Eaton, Schneider Electric, and now Siemens, position OmniCable as an authorized source for electrical distributors to purchase genuine Eaton, Square D, and Siemens circuit breakers reducing the chance of distributors seeking products from unauthorized sources.

Below are just a few reasons why OmniCable is your choice for your circuit breaker need!
Consistent inventory & competitive pricing (No guarantees on pricing or availability from the gray market)
Guaranteed new/genuine authentic factory-direct circuit breakers (Gray market can sell products of unknown origin increasing your risk of safety and liability)
Vast inventory & accessories (A wide range of circuit breakers & accessories from 15 - 2500 AMPs)
Same-day shipping
Inventory available 24/7/365
Check out Electrical Wholesaling's article, Eliminating Pain Points for Customers, to learn more about OmniCable's circuit breaker program.