Industrial Ethernet Zones for Industrial Spaces
Are you confused on where Industrial Ethernet cable should be placed in harsh industrial conditions? Nexans has a great infograph in where they identify 3 main "zones" of harsh conditions for industrial spaces.
Zone A: Infrastructure IT cabling - Light Duty Cables
Zone B: Control panel interconnection - Medium Duty Cables
Zone C: The most demanding conditions - Heavy Duty Cables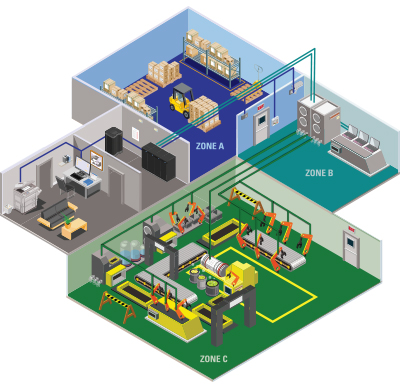 Click here for the infograph and characteristics of each zone from Nexans.

OmniCable - Operational excellence for order quality, consistency and expedience
At OmniCable, we empower your success by committing to the same principles of operational excellence at every one of our locations. With our multi-million dollar inventory, we are able to ship 99.9% of orders on time. This expedience, combined with our quality standards, ensures that every order is processed with consistent care, urgency and standardized packaging.
Call your local OmniCable Account Manager for Industrial Ethernet or other product quotes or questions.