Tray Cable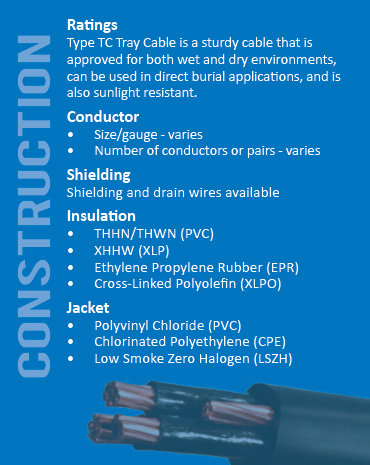 Product Overview
Tray cable can be used in many different types of cable tray systems, ranging from fixed wiring within buildings to hazardous locations and factory floors.
Applications
Designed for general use in manufacturing, industrial, and commercial distribution systems and in control circuits for the operation and interconnection of signaling and protection devices.

Where to Find Jobs & Why to Sell
WHERE can you find tray cable jobs?
Manufacturing, industrial, and commercial facilities and projects. Keep an eye out for new construction and facility expansions.

WHY sell these cables?
Type TC tray cable is a sturdy cable that is approved for both wet and dry environments, can be used in direct burial applications, and is also sunlight resistant.

How OmniCable Can Help You!
We cut custom lengths, stock many variations, offer custom packaging, and help with project management.
We provide printable tray cable spec sheets on our website.
We provide training & education on tray cables.