OmniCable is a Premier Redistributor Partner of Belden
As recently announced, Belden plans to launch a new Global Partner Program in Q3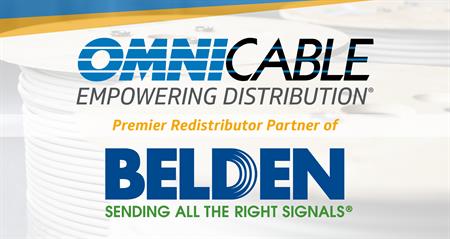 2020. OmniCable has been selected to continue its strong relationship with Belden as a premier redistributor partner of Belden products as part of this program.


Belden values OmniCable as a partner because of OmniCable's:
Unwavering commitment to selling exclusively to distributors
Strong partnership approach with suppliers
Focus on domestic cable manufacturers
Commitment to the Belden brand and other strong brands
View OmniCable's Belden Product Offering >
View OmniCable/Belden Linecard >


Why should electrical distributors choose to purchase from OmniCable?
We have 14 locations with the largest inventory investment that is 100% dedicated to electrical distributors
We never have and never will sell direct (do you have that peace of mind from other redistributors?)
You always have - and can continue to - trust us to ship directly to your customers
We are not owned by a competitor to electrical distributors
We are active participants and members of all major industry groups and organizations
With a multi-million dollar inventory from the leading manufacturers, we empower the industry to be successful by providing competitive pricing and significant inventory investments for same-day shipping and large projects.