Electrical Safety in Mines: Challenges & Precautions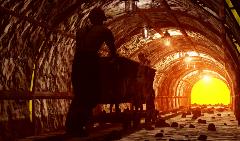 Did you know mining is considered the riskiest setting for the use of electrical power? Mining environments maintain extremely harsh conditions that have been threatening the safety and performance of equipment and workers for decades. Not only do mines have an electrical fatality rate approximately 12 times higher than other US industries, but one fatality is reported for every 22 electrical-related injuries, compared to one fatality for every 203 injuries for all other mining injuries.1
With such prevalent statistics proving the volatile nature of electrical power in mining environments, it is critical to take every safety precaution possible. In this blog, we will discuss why mine environments are prone to electrical accidents and what you can do to mitigate the risks and keep workers safe.
Why Electrical Safety in Mines is Challenging
Mine environments are known for their extreme dangers, which span explosions, cave-ins, flooding and equipment accidents. While cave-ins are the most common type of underground mining accident, nearly three-quarters of mine-related electrical injuries and deaths involve using machines, tools, appliances or lighting that come in contact with wiring, transformers or other electrical components.1
But what's the reason for this?
The combustible combination of dust and gases generated from mining combined with the materials being mined can turn small electrical accidents into major issues, like explosions and fires. The climate in underground mines is often humid, wet and damp, which is not ideal for electrical wires, cables and cords that are necessary for powering the mine.
Ways to Maintain Electrical Safety in Mines
So, to maintain power in your mine but also keep workers and equipment safe, there are a few planning factors that must be attended to before beginning any equipment installation or actual mining work.
Document everything related to designs and specifications for electrical equipment and accessories, to achieve certification from the US Depart of Labor's Mine Safety and Health Administration.

Assess the environmental conditions of the mine and find ways to isolate electrical equipment from dust, gases and other things that could catch fire or cause explosions. Any hidden or buried cables must be clearly marked and documented.

Include control wiring in your plan and maintain up-to-date electrical diagrams that show the position of major electrical assets and cable routes. Also, indicate the settings of adjustable devices.

Share information between your electrical engineering staff and ventilation system staff, as the systems' safety are dependent on one another.

Install systems that can automatically cut off the power supply if an emergency occurs. Back-up power supply systems are also important to keeping critical systems running during an outage.
The other piece of maintaining electrical safety in mines is choosing wire, cords and cables that are specifically approved for use in mines by the Insulated Power Cable Engineers Association (IPCEA). These approved mining wire and cables will be able to withstand the harsh climate and conditions overtime.
Mining wires and cables are each suited for a specific application or need. For example, Type W mining cables are suited for off-track mining equipment like drills and loading machines, whereas, Type G mining cables are designed for mobile mining equipment like shuttle cars. Generally, you will want to keep these features in mind when choosing mining cables and cords for your location:
Low-to-medium voltage wire and cables
Superior drag and flame resistance
Range of electrical and temperature parameters
Flexibility, torsion and abrasion resistance
Equipment compatibility with other construction materials
Keyway coding or padlocks for unrelated plugs or sockets
Sealed coverings to minimize contamination and corrosion
Restrained plugs and sockets to prevent unauthorized changes
OmniCable offers a selection of MSHA-compliant mining cables and cords for applications such as cranes, conveyors and mobile equipment as well as for underground mine power distribution, including: