The Fourth Revolution & Industrial Ethernet
Do you know what the fourth industrial revolution is? Have you heard that term before?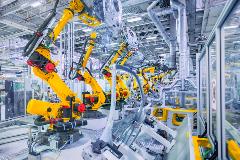 According to Mike Bayda, Industrial Business Manager, Nexans, "Today, we are in the midst of the fourth industrial revolution, characterized by the introduction of cyber-physical systems—a mechanism controlled or monitored by computer-based algorithms tightly integrated with the Internet and its users." Being connected is essential it today's world. With an increase in internet connections and devices on factory floors, Industrial Ethernet cable is needed more than ever before for industrial applications.
Check out this article from Nexans called
Control, Monitor, Process: The Role of Industrial Ethernet in Manufacturing
that explains the fourth industrial revolution and how Industrial Ethernet is critical for the industrial marketplace.
OmniCable - Exclusive relationships with distributors since 1977
Since our founding in 1977, OmniCable has sold exclusively to distributors. We provide distributors with the peace of mind that we will never sell directly to their customers. In addition, distributors place a great deal of trust in our service, knowing that as an employee-owned company, every single one of our team members is committed to your satisfaction and success.
Call your local OmniCable Account Manager for Industrial Ethernet or
other product
quotes or questions.