OmniCable Receives Belden's Pinnacle Award for 2nd Straight Year
Omni Cable Corporation (OmniCable) recently received Belden's Pinnacle award for its 2017 growth with Belden.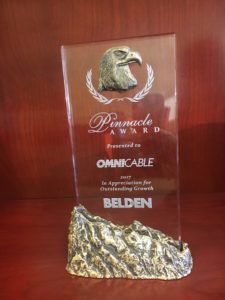 OmniCable grew its purchases across all major Belden industrial cable product categories in 2017, with notable growth in VFD and Industrial Ethernet. "OmniCable's growth exceeded market conditions and Belden's overall industrial cable performance in 2017 and is well positioned to continue to grow with us in 2018 through mutual growth campaigns targeted at the discrete and automation markets," said Belden's VP of Industrial Sales Americas, Sergio Resendiz. "OmniCable's continued focus on value-added cable services and their expanding presence across the country have contributed to their success as one of Belden's largest industrial distributors in North America," he added.
OmniCable has partnered with Belden and been authorized to sell their full line to electrical distributors since 2009. "With the support of Belden and our loyal customer base, we continue to find ways to grow our Belden business and help Belden maintain their premier call-out position in the industry," said Greg Donato, OmniCable's Chief Operating Officer (COO).